Jake
When you thought vapes couldn't get any bigger…
Also it seems that these new advanced vapes even have some kind of force push ability, or it could be that the dragonborn coughed out the words "fus-ro-da" as he took a huge pull form the world's biggest vape.
Scientists in Australia and New Zealand have made an exciting new discovery about the behaviour of octopi. Gloomy Octopus off the shores of Eastern Australia have been found to congregate in two identified locations, forming what researchers call "Cities". The first city found was named "Octopolis" and the newest being called "Octlantis".
---
J.D
An interesting interview with Nick Cave here.
I really want one of these tents so I can pretend i'm living in the future, or some such nonsense.
I'm not sure I could stop myself from licking one of these cubes…
So it looks like a manned Mars mission is actually on the cards if NASA are funding experiments like this now. The sooner the better in my opinion, maybe one day I can live on Mars in one of those futuristic tents and pretend i'm in the future while actually being in the future.
---
Sam
This week I spotted this great article about a photographer who travels around the country taking pictures of goalposts.
His end goal (I thank you) is to publish all the pictures in a book. The project is titled Urban Goals, you can see how it's coming along on Tumblr.
It reminded me of this Umbro TV ad from a few years back.
And keeping with the theme of drawing things on walls, there's a museum dedicated to street art and graffiti opening in Berlin, which looks like it'll be well worth a visit.
---
Paul
Nothing bad can ever come out of playing with fireworks
I think this sums up the difference between cats and dogs perfectly
---
Alex
I love that Space X and Elon Musk are pushing the boundaries of commercial spaceflight, and the re-usable orbital booster looks like something out of science fiction when it lands. I also love that they aren't afraid to fail, and let everyone know about it too. Success doesn't come easily!
It also means we get to see lots of cool explosions:
Create a 3D modal of your own face if you want to. Or don't, I don't really care:
---
Greg
Watch it a few times, you'll see what happens…tell me that doesn't blow your mind? How it that possible? Un-clip, jump off, do a little run and jump on again — in that amount of time? I'm baffled, amazed and strangely satisfied all in equal measure.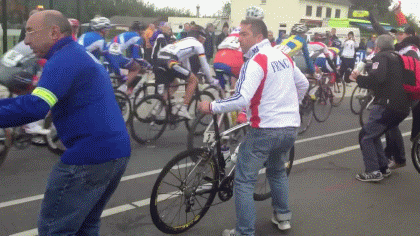 My Batfink esque design radar went into beeping overdrive when I saw this linked on Twitter the other day. This is a great resource for educating people about typography. It's full of brilliant tips and tricks, one of my favourites being,  use one typeface. This puts to bed the notion that you need to use a million typefaces at once. The best tip however, is something which you naturally start to in time as a Designer but maybe not so as a beginner, think in blocks. If you start doing this you'll notice that everything feels easier on the eye, and your natural spacing of elements will improve. Also here's a quick tip from me too, if designing on a screen give yourself a little bit more line spacing than you usually would when designing for print, trust me you will notice the difference.
---
Jonny
Drones are growing more terrifying by the day. First people are racing them, then putting flame throwers on them, now they are going to be buzzing around cities delivery packages. I'm not looking forward to when someone really winds Siri up.
These two gifs demonstrate the amazing ingenuity of man when it comes to drinking. No.1 shows a new method of getting 10 gallons of wine into your body in 3.6 seconds. No.2 allows you to make sure that cup of tea you forgot to make is properly brewed.
---
Jo
After seeing on the news that Germany has a dedicated WWII bomb squad still regularly working to clear old munitions I was wondering about London. Quick google and found this.
It's incredible how many bombs were dropped on London, the concentration and the coverage is shocking. Following on I tried to find similar maps of Leeds, Manchester and Birmingham but found very little.
I did stumble on this cheery secretive interactive map though.
Something to help you sleep soundly at night there.
---
…and finally a trip down memory lane.
Jason
I was thinking about some old stuff recently and two came to mind:
This is a lovely flash based animation I think released in like 2001.  At the time there was a lot of commotion around it.  It was so popular that the artist got lumbered with a hosting bill of $16,000 due to bandwidth use!  (http://www.metafilter.com/comments.mefi/6973) Can you imagine?  It still remains an utterly compelling piece of work:
And of course, the mastery of Death Star canteen lego animation using an Eddie Izzard live sketch.  Very sweet: