Jonny
Having bought a 3d printer which I'm yet to really print anything of note with (turns out 3d modelling is pretty hard), I've been trying to learn how to 3D model. One of the hard bits is visualising what you're making as you're viewing it in 2d on a screen, the guys at https://lookingglassfactory.com/ have come up with and amazing bit of kit that you can view 3D models like a legit hologram. I read the how it works page but am still none the wiser:
They also sell this sweet looking 3d cube thing! https://lookingglassfactory.com/product/l3d-cube/
---
Jo
This week – Edinburgh. What a wonderful place! I haven't been since I went to a Morrissey gig many moons ago, it was nice then but wow – it's just brilliant now. Also – left the motorway as soon as I could – A7 tourist route is definitely the way to go – and it only added 15 minutes or so to my arrival time. Anyhow – whilst there I was marvelling at the structure of the place – almost Parisian in its road layout – and at the same time I was thinking what was it that Edinburgh did way back when to afford such splendid architecture and monuments.  Cue Wikipedia.
'The New Town was an 18th-century solution to the problem of an increasingly crowded city which had been confined to the ridge sloping down from the castle. In 1766 a competition to design a "New Town" was won by James Craig, a 27-year-old architect.[84] The plan was a rigid, ordered grid, which fitted in well with Enlightenment ideas of rationality. The principal street was to be George Street, running along the natural ridge to the north of what became known as the "Old Town". To either side of it are two other main streets: Princes Street and Queen Street. Princes Street has become Edinburgh's main shopping street and now has few of its Georgian buildings in their original state. The three main streets are connected by a series of streets running perpendicular to them. The east and west ends of George Street are terminated by St Andrew Square and Charlotte Square respectively. The latter, designed by Robert Adam, influenced the architectural style of the New Town into the early 19th century.[85] Bute House, the official residence of the First Minister of Scotland, is on the north side of Charlotte Square.[86]'
---
Jason
I'm a bit stuck for things to talk about or recommend this week as haven't really been doing much reading around.  Let me see.
We're currently watching the Bodyguard on BBC iPlayer and it is very good.
BBC 6 Music played Temples of Synrinx by Rush yesterday and being an old metal fan, I leapt out of my chair…and quickly skyped Paul!  It is from the album 2112 which bizarrely has long now passed, but is a concept album about a future world where computers and their controllers, control everything…sound familiar?  The album is a classic from 1977.  Love it.
When a bit short of things to talk about, there's always this- the disco name generator: http://rumandmonkey.com/widgets/toys/namegen/9094#.W7TNmmhKiUl
---
Paul
As a developer there's nothing worse than finding a stack overflow article that is asking about the exact same error you're having but when you click on the article there's no responses. This week I ran into someone who had ran into that exact situation, but instead of just continuing his search he posted this image on thread. I think all programmers can relate to this.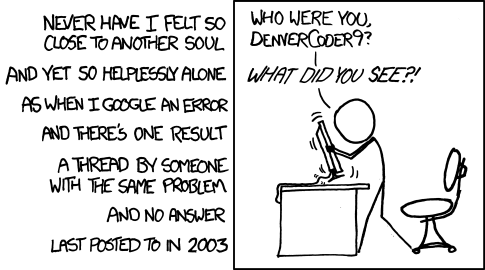 These models made out of cotton balls and LEDs also caught my eye this week. It might be a fire risk but it sure looks great.
---
J.D
As someone with a huge phobia of anything medical related, this following video of a man having brain surgery while awake and singing while they probe his brain so they can tell if they are in the wrong areas or not, really freaked me out. Especially the bit where they are in the wrong place and he looses the ability to sing, speak or even look alive for a few moments. I mean its incredible how they can do this but its also a bit too 'body horror'. Like the scene in Hannibal where Lector lobotomies the FBI agent at the dinner table, saute's the slices of brain and then serves them up to Clarice and the guy who's brain it is.
---
Bex
This week I learned something I didn't know I needed to know! Switzerland has 4 official languages, German, French, Italian, and Romansh. Because of this there was indecision about the official name for Switzerland. So what did they do, I hear you ask. Well, they did what any nation would do in a quandary – they decided to us  the Latin name for Swiss Confederation which is Confoederatio Helvetica. When this is abbreviated it is Ch and this is their internet top level domain .ch or .swiss.
https://tenor.com/view/surprise-gif-8058831
The significance of Pudding.
It turns out pudding is more important than we realised in medieval times. I was listening the QI elves podcast 'No Such thing as a Fish' and of course medieval times and their eccentricities were mentioned. And when you think medieval you think Henry VIII. Apparently, after Henry had disenfranchised the Catholic religion across England he had an abundance of buildings and land. One evening after he had a pudding – which unfortunately is not specified – he gave the baker a monastery. A FREAKING MONASTERY. Can you imagine giving someone a fiver tip let alone a monastic building… That must have been one immense pudding.
Here's a list of 10 things I enjoy about Halloween:
Pumpkins – not because I'm a decent carver but because I'm not
Black plastic bags – not only for tidying up rubbish, also the ideal material of choice for Irish mothers throughout the 90s when dressing their daughters up.
Hocus Pocus being on the telly – not explanation needed.
The smell of sweets in every shop you walk into.
Dressing up animals – we love it, they hate it
Dressing up babies – they're so tiny, who doesn't love tiny items
Dressing up Adults – I don't think it should be called dressing up because it's an excuse to wear not a lot, meh semantics.
Báirín breac – a little Irish treat that tastes awful. But I'm a fan of money baked into food stuffs
Drinking
Sweets for your hangover
https://www.telegraph.co.uk/foodanddrink/recipes/11444486/Rachel-Allens-Barmbrack-bairin-breac-recipe.html in case you too wish to bake money into your food.
---