Jonny
An Ode to Weatherspoons
I'm not actually going to write an ode, which apparently is some kind of song or poem. I just remembered how sick Weatherspoons is this week. You know exactly what you're getting with a spoons, consistently fine food and very reasonably priced drinks. You can get a double gin and tonic for about 4 quid which elsewhere would be upwards of 7 with exactly the same ingredients.
The app is also mint, when it's rammo at the bar you can just order stuff to the table and it comes in record time already paid for on the app, even better you can order random pints of milk or peas to other peoples tables.
I don't agree with the founders political stance but who cares when you can get a chicken burger, chips and a pint for about £6.
---
Jo
This week Alex bought me a ticket for Gilles Peterson. Really looking forward to it. I paused for thought and reflected on my tender years and whether or not I should still be attending such events.
I listen to the last hour of the Gilles Peterson show every Saturday when I'm on my way back home from footie with my son – it's a blissful, eclectic and entertaining affair in a cosy warm car.
Anyhow – lo' – I went to Wikipedia and discovered Gilles is actually 2 years older than I; well done Gilles for being right on the zeitgeist for all these years.
Gilles Peterson: https://en.wikipedia.org/wiki/Gilles_Peterson
Gilles Peterson: https://www.bbc.co.uk/programmes/b01fm4ss
---
Paul
Saw a video of this miniature engine this week and it's a thing of engineering brilliance. It runs so smoothly you can balance a 1p coin on it.
The French have invented a baguette dispenser and I think no more needs to be said.
https://old.reddit.com/r/gifs/comments/9gml5f/this_baguette_dispenser_in_france/
---
Alex
Like most people, I've always wanted to know what would happen if I dropped a ball of glowing hot metal into a glass of skittles. Well wonder no longer, because this is what happens. (It melts and sets on fire)
Famous social media accuser and billionaire philanthropist Elon Musk has announced that his Moon mission to carry a paying tourist will be streamed in HD Virtual Reality. It will be so realistic it seems like they shouldn't even bother going really, they could just do it at home.
Moon mission will be livestreamed in high def VR, so it'll feel like you're there in real-time minus a few seconds for speed of light

— Elon Musk (@elonmusk) September 18, 2018
---
Jason
I had a lovely camping weekend at the New Forest last weekend, thanks for asking.  I did not see any pigs doing their Pannage.  I and my family did not get any ticks, which is always a potential in the new forest.
However, the trip reminded me how much I love trees.  I love small trees and big trees.  I particularly love this tree which is called The President which is a Giant Sequoia, is estimated to be about 3200 years old and lives in Sequoia National Park (I hope you're having to scroll to see it all):
We've recently done our staff appraisals, which are always great, as everyone who works for SteadyGo is really good at their job and a pleasure to work with.  However, in other companies this may not always be the case.  Here are some actual snippets from appraisals and evaluations that made me laugh:
"This employee is really not so much of a has-been, but more of a definite won't be."
"Works well when under constant supervision and cornered like a rat in a trap."
"He sets low personal standards and then consistently fails to achieve them."
"This employee is depriving a village somewhere of an idiot."
"This employee should go far, and the sooner he starts the better."
"If you see two people talking and one looks bored, he's the other one."
---
Bex
This week I have completed the 10Q challenge. Well, I suppose challenge is a strong term more like a reflection exercise that occurs for 10 days in September.
There are 10 questions and one is released every day. You can answer one a day for 10 days or save them all to do on one day. They are locked in a digital/cloud-based vault until the following year.
This is my second year doing the 10Q exercise, I have to say seeing those answers and remembering this time last year was a really nostalgic if not helpful exercise. A year can make a huge difference.
The main aim of the questions is introspection. It gives you the opportunity to acknowledge achievements, works in progress and reflect on failures. For the sake of 30 seconds of your time to think about yourself during your packed work day, it offers a clarity and focus.
It sounds fluffy, boring, a waste of time but the questions make you think about yourself in a constructive way. The questions are ambiguous and completely subjective so anyone and everyone can answer from their own personal perspective.
It's so easy to do on a commute or that awkward moment you've arrived somewhere too early and you've a lot of waiting to do.
A year later when you see your answers you feel…..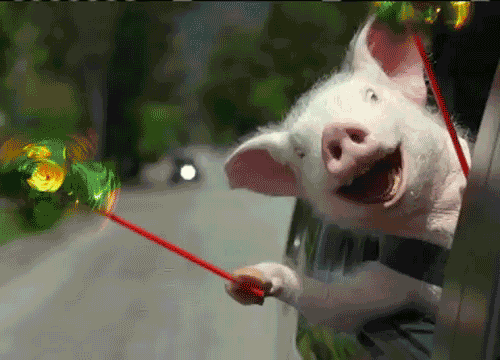 ---
J.D
I want to bring to your attention a Twitter account this week that I bloody love, it's called Scarred for Life and it's all about the bizarre pop culture in the 70's and 80's mainly centered around  showing really dark and terrifying television programs, films, public information films and adverts.
It's all about those things that stuck in your head as a kid (if you grew up in the 70's or 80's) and keep you awake at night, like the short films about not trespassing on railway property or you will get electrocuted and which occasionally showed kids on fire. Or a particular Dr Who episode with some random terrifying alien monster that week.
There is a 700+ page book out called funnily enough 'Scarred for life' so decided to buy it the other day, I cannot wait to read it. The way the authors write in the book and the twitter account is often hilarious. Check it out:
Also, I've been watching loads of Youtube videos of depressing council estates in the 70's and 80's. I've always been obsessed with bleakness for some reason, i'm not sure it's an aesthetic thing or not, probably is, all those big brutalist blocks of concrete and washed out colour on the 70's film stock, it's glorious. I'm not a particularly bleak person either, i'm generally quite happy, maybe 10 percent of me is bleak.
I don't know, Anyway check this one out about the residents of a big depressing tower block in 1971, the only person who loves living there is a really old lady who sort of over-dramatizes how she used to live before and makes it sound like she lived in a swamp in Medieval times or something.
---